There are so many reasons why learning a new language is a progressive idea. You can communicate with new people and connect with a different culture. It also has health benefits; studies have shown that people who speak multi- languages have more active minds. Let's know why you should enroll in English- Speaking Courses in India.
Four hundred million people around the world speak English as their first language. Also, English is listed as one of the official languages in more than a quarter of the countries in the world. So you can communicate with new people just by improving your English language.
Due to globalization, Companies are becoming more international. Because of this, English is an essential skill for better jobs. Every organization conducts all its business in English, no matter where they are based. Learning English is an excellent idea if you want to grab the best-paid opportunities.
Moreover, Most of the content on the internet is written in English. Since it is the international language of media and arts, and if you want to access all the possibilities without relying on translations, learn this most powerful language today.
English- Speaking Courses in India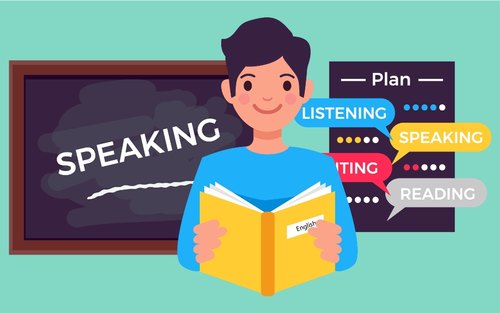 1. Henry Harvin
Henry Harvin is the top-rated institute for English-speaking courses in India. Their course increases English speaking fluency and focuses mainly on grammar and vocabulary skills. Therefore, you will be a fluent English speaker by completing the courses. Moreover, Henry Harvin's English-speaking courses follow the Common European Framework( CEPR).
ENGLISH-SPEAKING COURSE CURRICULUM
Beginners Level A1
Beginners Level A2
Intermediate Level B1
Intermediate Level B2
Advanced Level C1
Advanced Level C2
Key Highlights of the Course
Practical training from the industry.
Internship opportunity to gain practical exposure to English- speaking
Placement drive for one year after completing the course
Also, regular boot camps sessions for one year
E-access to assignments, video material, techniques, and many more
Also one-year gold membership in HENRY HARVINⓇ
Update your soft skills to increase your employability
Free Hackathons and other competitions.
Besides, Unique pedagogy focuses on action-oriented programs and many activities.
Help you build your CV and Linkedin profile.
Earn a certificate from a government-recognized and reputed institution.
Course Fee and Duration
| | | |
| --- | --- | --- |
| Single Level | 40 Hours | INR 9500 |
| Triple Level Combo | 40 Hours | INR 22500 |
| Squad Level Combo | 40 Hours | INR 29500 |
| Five Level Combo | 50 Hours | INR 36500 |
| Six Level Combo | 50 Hours | 44500 |
2. British Council– English Speaking Course in India
British Council is a UK-based international institution for educational and cultural prospects. Hence, it is an online portal for all global students for English-speaking courses.
Moreover, it provides the best learning experience with experienced faculty in this field. Teachers conduct grammar web seminars to brush the reading, writing, and speaking skills, followed by immediate feedback.
3. Cambly – English Speaking Course in India
Cambly is another decent and fun-loving global portal for English-speaking courses in India. Indeed they provide an extensive syllabus for the English-speaking course in India. This e-learning platform helps develop English language fluency, including speaking, reading, writing, and brushing up vocabulary skills.
Besides, this course offers one-on-one interaction between students and teachers. It's an opportunity to interact with native speakers. Moreover, the duration is flexible when it comes to course timings. They cover a wide range of courses on the fundamental of English fluency, like introductory conversation, intermediate conversation, advanced topic, traveling English, etc.
4. Engconvo– English Speaking Course in India
Engconvo is one of the famous platforms for English-speaking courses. The institution has eased with one on one facility of online classes at flexible timings. Additionally, the candidates can select courses based on General English, Business English, Job interviews, and IELTS coaching. Indeed, you will get a certificate from the institution at the end of the course.
5. Speaking India
It is an ISO 9001:2015 certified training institute providing the best English-speaking courses in India. Hence, Speaking India focuses on problem-solving and improves the level of proficiency in English through its language-centric courses.
In addition, they have included interactive activities such as role-plays, monologue sessions, grammar, public speaking championships, extempore, debates, and survey sessions in their curriculum to uplift learning.
6. Speakwell Skills Academy
Speakwell Skills Academy offers a variety of online English-speaking courses in India. The program focuses on the core fundamentals such as grammar skills, neutralization, and vocabulary strengthening.
After completing the English-speaking course, you will get full confidence to construct better sentences with more exciting phrases. Further, Speakwell Institute has personal coaching and group training to meet the needs of the individual. Further, the institute has trained over 1000 students to advance in their careers.
7. Futurelearn – English Speaking Course in India
Futurelearn offers a variety of topics in English-speaking courses in India, same all over the globe. Besides, they have courses for students and working professions and courses related to academics.
Therefore, Futurelearn has online courses accessible from any corner of the globe.
8. Let's Talk institute
Since 2005, Let's Talk institute has been a well-known spoken English training institution. Besides, it has uplifted the level of proficiency among its students.
Besides English-speaking classes, the institute provides a corporate, business, accent, IELTS, and TOEFL preparation. The overall course curriculum is planned to promote personal development.
9. Cambridge Academy of English
It is an educational organization with a mission to meet the needs of students. Besides, a community by delivering excellent services in areas of demonstrated skill. Undoubtedly, the faculty is inspired by scholarship and research to raise a conducive learning environment for its students.
Moreover, the Cambridge Academy of English encourages candidates who want to improve and achieve their goals by taking advantage of the curated courses.
10. Stanford English Academy
The academy offers courses for young and college-going students. Moreover, they have corporate and business English courses to enrich with better communication with clients, teammates, and others in the workplace.
They have an up-to-date curriculum and tailor it to the needs of the candidates. Stanford English Academy offers IELTS training to interested candidates besides spoken English.
Certainly, it has been named "The Best English Academy in India" for the second year (2016-2017).
11. Alpha Spoken English and IELTS Institute
Alpha Spoken English and IELTS Institute are based in Hyderabad. The program involves activities and regular assessments to assess individual performance and also offers a comprehensive curriculum.
Moreover, the experienced trainers provide proper guidance throughout the course. So after completing the course, you will be awarded a certificate from the institution.
12. Empower English Academy
It is a well-established English-speaking online course that aims to build confidence in its students when speaking English. Moreover, proficient trainers with more than four years of corporate experience devote their attention to each student.
Students can clear up any doubts and quires during the interactive sessions. Here also, students are delivered a certificate based on their merits in the exam.
Conclusion
However, fluency in English depends on the dedication and time you devote to the language. But to get proper guidance and know the different techniques, you should enroll in an institution.
Besides this, the institution will provide you with assignments, regular exercises to practice communication in English, brushing up on vocabulary and using new words and phrases, and reading different books.
Recommended Reads
Top 20 Content Writing Career Opportunities in 2022
Top 14 Content Writing Courses in Bangalore
Top 12 English-speaking Courses in India
Henry Harvin Reviews | Henry Harvin Education Reviews
Henry Harvin SAP Course Review ( Exposed)
Henry Harvin SAP MM ECC Course Review
FAQs
1.  Who is eligible to enroll in English-speaking courses?
Ans- Working Professionals who want to learn English speaking skills to upgrade their career option, Students who are looking for improvement in their academics or any interested in learning spoken English can attend these courses.

2. What is the minimum fee for English-speaking courses in India?
Ans. The average fee for English-speaking courses in India ranges from 10 to 20 thousand, depending on the selected levels. 

3. When can I become fluent in English?
Ans: It depends on how much you practices. However, at minimum, you will need 3-6 months to become fluent in English.