Introduction
SAP stands for Systems Applications and Products in data processing. It is also an alternative name for ERP (Enterprise Resource Planning) software. SAP is the name of the European multinational company that develops software solutions for managing business operations and customer relationships.
SAP's fully integrated modules cover almost all aspects of business management. It stands at the first position in the ERP market. SAP has crossed 140,000 installations worldwide with over 25 industry-specific solutions, and more than 75000 customers in 120 countries in the last five to six years.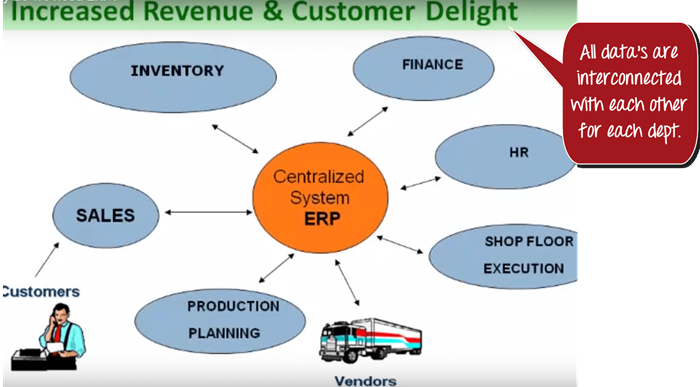 SAP CRM Training Courses
SAP CRM training courses help the participant learn how to optimize key SAP CRM processes, efficiently utilize reporting and analytics tools, and access performance metrics across all the customer data. A SAP CRM training certificate, along with experience adds value to the Linkedin profile as well increases salary. There are many SAP CRM Training courses available across the country and one of the most popular one is offered by Henry Harvin.
SAP CRM Training Course by Henry Harvin ERP Academy,
This course is formulated to equip candidates with in-depth knowledge and a clear perception of the SAP CRM tool to develop a strong relationship with customers. This course is for CRM heads and executives, relationship managers, Loyalty managers, and freshers. It has 44 hours of Live Online Interactive Classroom sessions. It provides the opportunity for an Internship and guarantees 100% placement.
The top 30 questions and their answers on SAP CRM often asked in an exam or an interview for an SAP CRM job are given below. They will help in understanding the knowledge and experience needed in an SAP CRM job.
Q1. What is CRM?
Answer -CRM (Customer Relationship Management) is a process in which a business or organization administers its interactions with customers, typically using data analysis to study large amounts of information.
Q2. What is SAP CRM?
Answer – SAP CRM is one of the key modules in an organization that deals with handling customers effectively and efficiently. In today's competitive market environment, companies must make changes in a dynamic environment and take care of all the key activities related to customer service. CRM stands for Customer Relationship Management. SAP is a software tool and is one of the key modules of CRM in an organization.
Q3. What are the sub-modules in SAP CRM that support key functions of Customer relationship management?
Answer – The modules that support the key functions of the Customer Relationship Management in SAP CRM −
SAP CRM Sales
SAP CRM Analytics
SAP CRM Service
SAP CRM Web Channel (E-Marketing, CRM Mobile, etc.)
SAP CRM Interaction Center IC
SAP Hybris
SAP CRM Marketing
Q4. What is CRM Marketing?
Answer -CRM (Customer relationship management) marketing refers to the tactics, strategies, and technologies supporting its execution, crucial in times of online business revolution. Marketers use this to manage the relationship with their customers throughout the customer lifecycle.
Q5. Explain what is the CRM system in SAP CRM technology?
Answer – SAP CRM is a tool for managing a company's relationships and interactions with customers and potential customers. CRM helps companies to stay connected with their customers. This further streamlines the process and improves profitability. A birthday greeting with a promo code or discount coupon or a simple thank you card to a customer or sending an attractive discount to a customer who has purchased after a long time examples of CRM Marketing. It also helps in making an upsell or cross-sell to the clients if they purchase a particular product.
Q6. Is SAP CRM a part of SAP ERP?
Answer – Yes, SAP CRM is a part of SAP ERP (Enterprise Resource Planning) and is used to implement customized business processes. In general terms, it deals with Marketing Integration.
Q7. What is the difference between CRM and ERP?
Answer -The difference in CRM and ERP is as follows:
| | | |
| --- | --- | --- |
| | CRM | ERP |
| 1 | In CRM the center of focus is on increasing sales with an emphasis on channel management. | ERP deals with accounting. Its center of focus is on reducing costs in a supply chain. |
| 2 | CRM manages the relationship between the business and the customer | ERP is used to manage the entire company. This can sometimes include customers too. |
| 3 | CRM focuses on the sales side of the organization | ERP is integrated and implemented across multiple departments. |
Difference between CRM and ERP
Q8. What is IPC in SAP CRM?
Answer – IPC stands for "Internet Pricing and Configurator." The IPC carries a set of engines that execute product configuration and pricing. Its functionality is versatile in different SAP applications.
Q9. What are the important components of IPC?
Answer – The important components of IPC are:
Sales Pricing Engine (SPE)
Sales Configuration Engine (SCE)
Listing
Free Goods Engine (FGE)
Q10. What is Partner Function in SAP CRM?
Answer -Partner Function is all about the people with whom business is done by an organization along with the details of the organization. This includes all kinds of business transactions between them and all details about each transaction.
The partner functions in SAP CRM include complete information on what is sold, shipped, billed to the party and payer.
Partner function gives a detailed account of people with whom the business process is carried out. It is a kind of relationship which defines which partner performs what actions to a connected customer
SAP CRM uses IPC to determine pricing information when creating a business transaction. Some examples of using IPC are a quotation, sales order, service process, or contract in a web-based environment.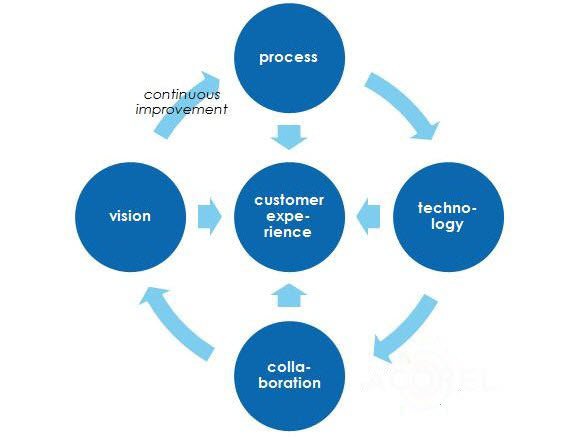 Q11. What is AET in SAP CRM?
Answer – AET (Application Enhancement Tool) is a tool used to add fields to standard SAP objects safely and flexibly. It helps to create new relations with 1-to-many relationships to standard SAP objects too.
Q12. What are Actions in SAP CRM?
Answer – 'Actions' in SAP CRM is a method to add functionality. If a quotation has to be sent to the customers from the quotation document, the feature 'Actions' has to be used. Another way of using "actions" is to create an in-follow on a document. 'Actions' are pieces of logic that are related to a transaction that is executed either automatically or manually.
Q13. What is text determination in SAP CRM?
Answer -Texts are used to exchange information in SAP CRM. These texts can be between the customers, between the partners, or between the users. The process is called text determination and can be created for customer master, sales document header and item, billing document header and item, etc.
The text determination procedure is a collection of text types. This procedure is assigned to CRM Objects. An access sequence is assigned for each text type in the procedure.
Q14. List out the standard transaction types for sales?
Answer – Five types of standard transactions for sales are –
LEAD- lead
AG- Quotation
Opt-Opportunity
OPSM- Sales Methodology
TA- Tele Sales, etc.
Q15. Explain what is logical links in SAP CRM?
Answer – The navigational bar in SAP CRM has a two-level menu structure. The top-level menus are referred to as work centers. These work centers contain logical links that indicate the actual CRM application. Below the two-level menu system, there is a set of logical links which enable the CRM user to directly create the CRM business object. These links are referred to as direct links. The logical link allows the user to navigate to different pages.
Q16. Explain what is BDOC in CRM? What are the types or classes of BDOC?
Answer -The BDOC or business documents consist of all data or information used by CRM middleware to transfer or exchange data with mobile clients.
Types of BDOC are –
Messaging BDocs
Synchronization BDocs
Mobile Application BDocs
Q17. In real-time what does a consultant do in an SAP CRM job?
Answer – In real-time, the SAP CRM consultant analyzes the business requirements and then configures the ERP.
Q18. How to delete a business partner?
Answer -When a business partner has to be deleted, BUPA_DEL and BUPA_PRE_DA can be used.
Q19. Mention where can one find the internet e-mail addresses for business partners stored in the table?
Answer – The e-mail addresses for business partners are stored in table ADR6.
Answer -Yes, it is possible to change or alter an organizational attribute within the Organization Model Functionality via the transaction code 00ATTRICUST which helps in changing the transaction code. This area is a core SAP configuration screen from which deleted items cannot be recovered.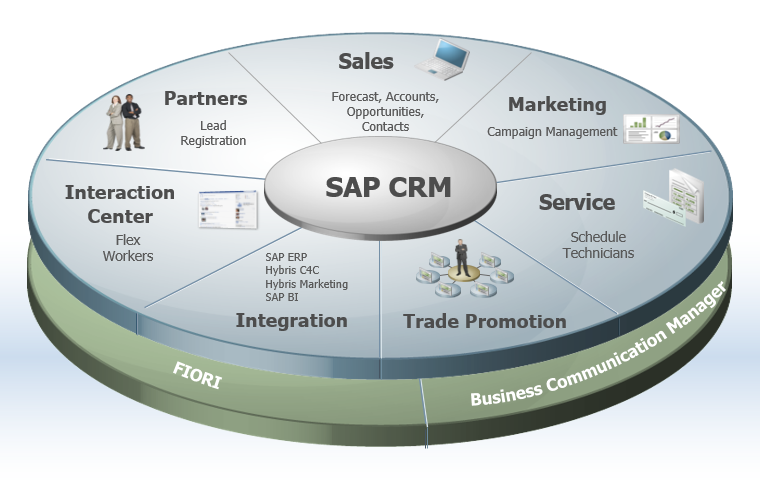 Q 21. What is the standard transaction type quotation?
Answer – The standard Transaction type is AG and the Item category is AGN
Q 22. Define some basic concepts of SAP CRM – 1. Object-Based/Object-Oriented Programming 2. GUID as primary key 3. Single client per instance 4. The data model and ERP are not the same
Answer-There are a few technical concepts that you need to be familiar with to be successful with SAP CRM development. Some of them are –
Object-Based/Object-Oriented Programming
CRM is primarily an object-based and sometimes object-oriented ABAP type system. Object-based means the application is not fully object-oriented but written in a manner that simulates object orientation.
GUID as primary key
GUID is used in CRM which is a globally or generally unique identifier. It is either in 16 bit, 22 bit or 32-bit raw character format. Its purpose is to prevent issues with number range conflicts and allow for easier read access to the CRM tables.
Single client per instance
In a simple CRM landscape that only has one SAP ERP backend connected to it, you will find there is no need for multiple clients in the development system. This is since the CRM downloads customizing from the ERP system and uses this customizing as the starting point. Normally we only have one middleware connection between CRM & ERP as a recommended practice. It is therefore recommended then to only have one development client on the CRM side.
The data model and ERP are not the same
CRM has a unique segment-based data model that is similar to HR information types in nature. It means that not all the information is stored in very large tables for a business object. In addition, a person should never write select statements to read data in CRM unless he or she is searching for data. Instead, he or she should use the provided APIs contained in the system.
Q 23 How do you manage customer complaints in the CRM module?
Answer – Complaints are part and parcel of both service and sales and can be significantly created and used for many advantageous reasons. A few examples of these complaints are about the in-house repairs, billing-related issues, deliveries issues, and returns, etc.
Q 24. What is the role of a functional consultant in SAP CRM?
Answer– As a candidate for an SAP CRM job, the role of a functional consultant comes on priority. A functional consultant evaluates all the requirements after talking with the customers or their representatives. He/She then transforms the information into an abstract and algorithmic business model. Then, he/she identifies similar cases and transforms them into logical and technical data. The functional consultant then customizes the respective business area and makes sure the system reacts in the manner according to the constraints of the requested use case.
The consultant documents the settings and prepares proper guidelines that allow other consultants to do further changes or repairs with due effort.
The consultant ensures that proper training is given to the users and that the system is usable, is performing appropriately and the business flow is complete and correct. During go-live, he/she assists the technical staff by testing the behavior of the system.
After go-live, he/she guarantees that the procedures remain usable and consistent in real-life situations and proposes enhancements.
Q 25. Define the term 'Opportunity" in SAP CRM?
Answer – The sales prospect and the sales volume are defined as an Opportunity. The requested product or service can also be defined as an Opportunity. The chance or probability of sales of a product or service can be an opportunity and this can be the result of the sales deal or invitation of bidding etc.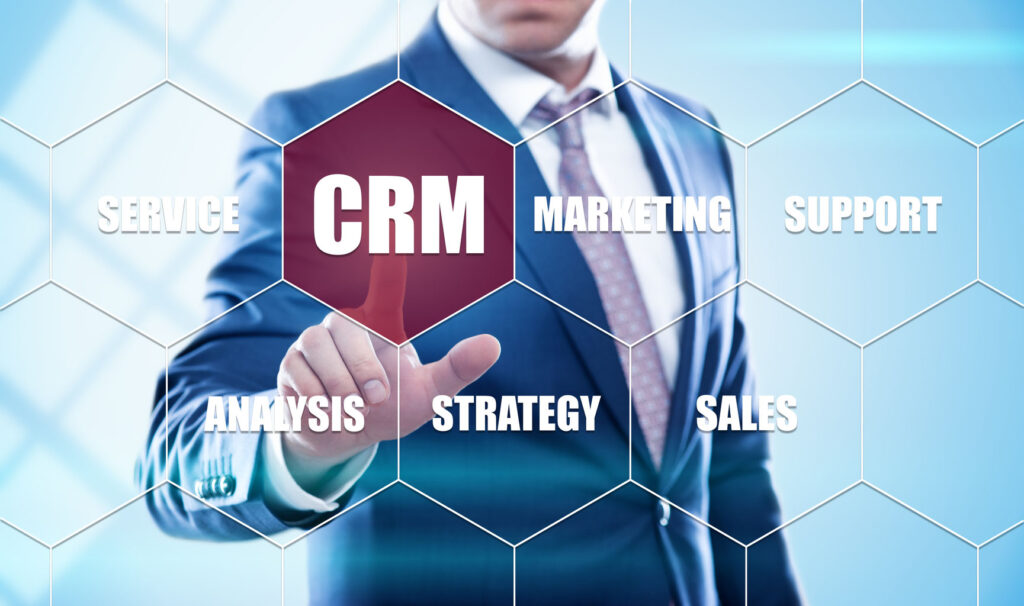 Q 26. Define the term Lead available in the SAP CRM?
Answer – A sales process has various stages and the very first stage is known as Lead. It is represented by a person who has shown great interest in buying a product. Various marketing processes like advertisements, trade fairs, or direct marketing are used to generate Leads.
Q 27. Mention the various categories of Lead?
Answer -A Lead can be categorized as cold, hot, or warm by the marketing department. The sales department is said to be creating a great opportunity for a lead if that looks promising.
Q 28. Differentiate between Opportunity and Lead in SAP CRM?
Answer – Lead is important to become an Opportunity. Lead is the predecessor to opportunity. A sales representative uses opportunities to control the projections of sales and also uses them to maximize the customer's chance to win and minimize the sales time.
Q 29. What is the relation between CRM and SAPR3 architecture?
Answer – R 3 means a Three-tier architecture – 1st Tier ( R1 ) was launched at the time of SAP inception with five x IBM employees. Later on, the 2nd and 3rd tiers had come in the form of advanced SAPR3 architecture. The latest is My SAP CRM. R3's actual nomenclature is ECC – Enterprise Central Component. CRM is the central server attached to its external systems such as BIW, ECC, and third-party systems, etc
Example – If a client has already installed SAP ECC ( R3 ) and wants to upgrade with SAP CRM, he or she has to integrate or fetch some data related to sales, pricing conditions, etc thru R 3 / ECC.
This is done through the middleware concept ( connectivity ), for which one should possess knowledge of the middleware concepts
Q 30. What is middleware in SAP CRM?
Answer – Middleware is a tool that is inbuilt within SAP CRM that enables the SAP CRM system to interact with various other SAP (R/3, BW, APO, etc.) and non SAP systems (3rd party web channel, etc.) Using middleware a person can control what data should flow in and out of the CRM system and also monitor the same.
Nowadays it is advisable to add an SAP CRM certification to experience and enhance performance and salary. One very effective and popular certification is from Henry Harvin ERP Academy.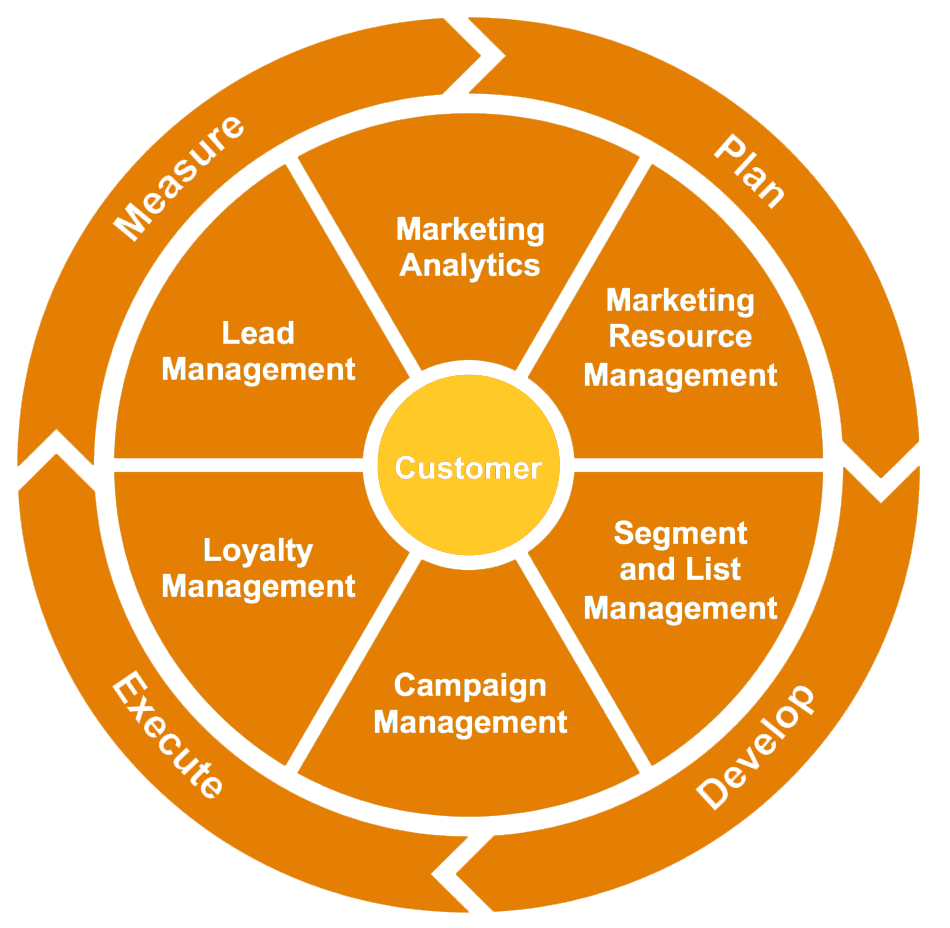 Conclusion
The top 30 SAP CRM questions and answers given here are very helpful for SAP CRM job seekers. They certainly do not exhaust the total subject and there can be many more categories of questions, but the root questions and answers will remain more or less the same as cited above. SAP CRM certification and being prepared for a SAP CRM job are quite challenging but rewarding. SAP has announced major developments in CRM space and many more are planned in near future, aiming at a greater pie in the growing CRM market. The major paradigm shift for CRM to grow is the business strategy to move away from an orientation around a sales rep to a 360 degree focus on the CUSTOMER. So SAP CRM is here to stay for a long time.
FAQs
Q1. Are there any competitive products of SAP software in the market?
Yes, there are competitive products like Oracle, Microsoft Dynamics, and others
Q2. How does a transaction take place in a business unit?
The whole transaction process that is followed by any business unit– The client contacts the sales team to check the availability of the product
The sales team approaches the Inventory department to check for the availability of the product
In case the product is out of stock, the sales team approaches the Production Planning Department to manufacture the product
The production planning team checks with the inventory department for the availability of raw material
If the raw material is not available with inventory, the Production Planning team buys the raw material from the Vendors
Then Production Planning forwards the raw materials to the Shop Floor Execution for actual production
Once ready, the Shop Floor Team sends the goods to the Sales Team
Sales Team who in turn deliver it to the client
The sales team updates the finance with revenue generated by the sale of the product. The production planning team update the finance with payments to be made to different vendors for raw materials.
All departments approach HR for any Human Resource related issue.
Q3. What is the future of SAP CRM?
SAP CRM is currently supported till at least 2025 and SAP has not announced any end-of-life date or replacement for SAP CRM on-premise system.
Q4. Can I get an SAP CRM  job after certification with experience?
Though certification alone does not guarantee a job in SAP CRM, you will get preference in getting an SAP CRM job as compared to a noncertified professional. The powerful combination to guarantee an SAP CRM job is knowledge, expertise, and certification.
Q5. How valuable is an SAP CRM certification?
The value of the certification differs from institute to institute. HENRY HARVIN's SAP CRM certificate has a very high value. After the completion of the training, there is 100% placement and it is very affordable. It is worth the time,  money, and effort. Their vision is to reshape the growth of individuals and organizations globally by delivering excellent training & services through benchmarked content, resources, and state-of-the-art technology.
.