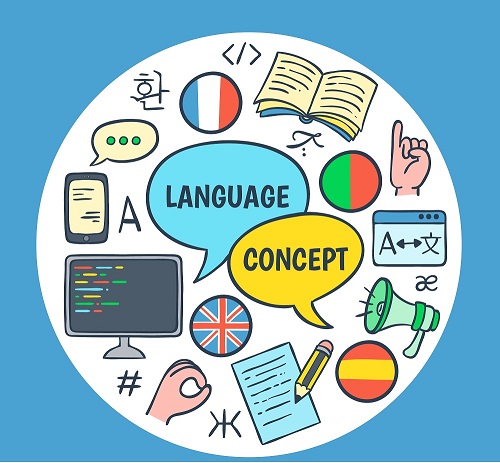 Come! Let's learn French language online. Café, déjà vu, décor, naïve, restaurant – have you ever thought from where these words originated? Yes! You have guessed it right! The words originate from French. For example, "Café" means coffee house. Similarly, there are many words like déjà vu which means already seen, crème brûlée, which means burnt cream, and so on. Today I am going to take your through my journey of how I learned French online and Institutes offering French language courses.
I read somewhere that approximately 29% of English vocabulary comes from French. Such an exciting thing, right? There are so many words used in English but originated in French.
French is a Romance language of the Indo-European family that developed in the 9th century in Northern France. This language is spoken in 40 countries like Africa, Europe, North America, Oceania, and Antarctica.
French is a native language for over 80 million people and is an official language in 29 countries. French is the 7th most spoken language on Earth. French language is one of the six official languages used in the United Nations. In addition, it is spoken as a first language in France, Canada, Belgium, western Switzerland, parts of Luxembourg, and various other places.
Have you ever given a thought to learning any other language other than your mother tongue and English? I know many people who have an interest in learning other languages. French is one of which many people are keen on learning it—wondering how to learn French quickly or by yourself – or if you can even do that? Then definitely, you are not alone to get this question. Many people are in search of how to learn the French language quickly.
So, if you are thinking of learning French, this is the article for you!
Today, I will tell you and what benefits I see in learning this language in this article. Also, I will be giving information about French language courses, where you can learn French, from which institutes, advantages, opportunities to learn French, etc.
Some More Facts about French
French, Hindi, and English are from the same family of Indo-European languages. This group consists of multiple other hundred languages not only from India but also from Europe, Iran, and South Asia.
Although French is the most widely spoken language, it is also one of the most challenging languages in the world.
French is an official language in many international organizations such as the IMF, the UN, Red Cross, the European Union, etc.
Do you know one fun fact? Written French and Spoken French are considered two different languages.
French has grammar, silent letters, gliding's, liaisons, etc., which is included in this language. Our regular school curriculum focuses on grammar and other things since the teacher doesn't choose. They have to cover the pre-decided syllabus, and therefore they get very little time. So, if you have to learn French to communicate in French, you also need to understand modern spoken French.
Nowadays, multiple sites offer something free when learning French, like free tips, videos, and free French lessons.
Free is lovely but be careful! If the material is not good, "free" is a complete waste.
French isn't easy or hard to learn, but you can quickly forget if you do not practice. But do you know why French is an easy language? Here are the reasons why it's easy:
French uses Latin alphabets like our English
It is not a tonal language, unlike many Africana and Asian languages
This language has no cases, unlike the Russian language
It shares a lot of vocabulary with English due to their intertwined histories
French has only two genders, unlike German, which has three
There are multiple levels when you are learning a language. Now, let's go through the various levels which are there in the French language:
Levels in learning the French language
A1: The Beginners Level:
This level deals with basic vocabulary, greetings, basic grammar such as nouns, pronouns, adjectives, verbs, etc.
A2: The Upper Beginners Level:
This level is a little advanced than the beginners. It will teach you expression, grammar like future tenses, comparative/superlative sentences, demonstrative pronouns, adverbs, etc.
B1: Intermediate level
This level deals with skills like reading, listening, writing, etc. At this level, you will learn to structure sentences in this language.
C1: The Advanced Level
You will better understand the longer texts and their meaning at this level. In addition, you will learn to express fluently and spontaneously without much effort.
C2: The Proficiency level
You will understand everything you hear in French or read at this level. In addition, you will be able to summarize information from various sources, reconstruct sentences and presentations.
Institutes offering French Language Courses:
If you are interested in learning the French language quickly or pursuing your career internationally, multiple institutions offer foreign language courses. Let's go through some of the top French language courses Institutes in Mumbai:
Henry Harvin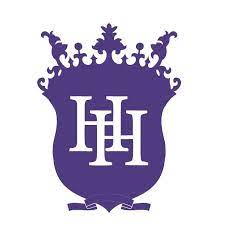 I want to recommend Henry Harvin Institute to do a French language course. This is the best platform to learn the French language course. Multiple MNCs (Multinational Corporations) are hiring people with proficiency in this language. Henry Harvin helps you get the required knowledge and experience to help you reach the apex in your career as a French language expert. After completing the course, you will write and speak with absolute confidence.
Benefits of doing the French language course from Henry Harvin:
100% placement guarantee post 1-year successful completion of the course
Certificate upon completion of the course
Internship assistance
Access to video content, various other tools, and techniques to keep students at par with learning
Bootcamps spread over 12 months
Free access to Hackathons and competitions
Training by veteran industry experts teaching in the field with more than 15 years of experience
Weekly job opportunities offered
It also has its batches at multiple centers across Mumbai.
French at Alliance Francaise De Bombay (AFB)
This educational organization provides French language courses for adults and students. They have flexible schedules like regular, fast track, and weekend batches. They also help you to prepare for the official exam.
This institution caters to various demands of learning French language courses for candidates from multiple organizations and multinationals.
Benefits of learning French language course from AFB:
The teachers in this institution are FFL qualified. They participate in training through the year to keep them upgraded
Only authorized French language learning institute to deliver certified French proficiency degrees
Cambridge Institute

This is another famous institute providing French language courses online. The trainers are well-versed and teach modern tools and techniques in a learner-friendly environment. In addition, this institute is renowned for giving corporate training to premier companies along with translation and interpretation services.
Benefits of learning French language course here:
They prepare students for DEFL (Diploma d'etudes en langue Francaise) exam
They prepare students
Highly qualified and professional tutors
Special security to women students traveling to Mumbai leaving their hometown
Good infrastructure with proper connections
In this way, if you search on the internet, multiple institutes offer French language courses online and offline. It entirely depends upon your requirement, need, and suitability which will decide where you want to learn your French language quickly, online or offline.
But I would highly recommend Henry Harvin to learn French language course. Here I would also like to tell you how I managed to learn the French language easily online or what motivated me to take up a French language course.
How have I learned French language course?
I want to tell you how I learned the French language. I was working as a Marketing Executive in one of the Multinational companies. I used to deal with multiple people across the globe. This included people who used to speak German, French, and many other languages. But most of my clients were either French or German-speaking. I used to handle a team that used to work on translation projects. We used to get the clients' translations and input those translations into our database. But sometimes, there used to be some missing information, and then our project completion could get stuck. At that point, I felt that if I had learned the French language, my inputs would have proved valuable.
This point triggered how I learned the French language. Then I started looking for Institutes from where I could learn French. There are so many institutes that offer these courses. But how to select the best institute was my problem. I was learning French just because I have a passion for learning languages. And if I am pursuing my love, I believe it must be taken seriously. So I searched the internet to find out the best coaching institutes that would offer French language courses. Some of the institutions providing the French language course had timings that were not suitable for me. Some were offering offline French language courses where I couldn't travel.
Finally, after doing a lot of research, I decided to learn a French language course from Henry Harvin, a perfect Institute for Learning French suitable for my needs.
Their French language course offered me an attractive package deal with low rates, flexible schedule, exceptional trainer, and a good learning environment.
The trainer considers every individual need of every student in the class. It helped me to improve quickly and achieve my goals.
After researching, I had read excellent reviews about Henry Harvin's French language course. The number of students was limited, so I got enough time to practice our oral skills with the trainers and my other colleagues. It helped me build my confidence in speaking the language with others.
The class sessions were interactive. I learned the French language by listening to French audio files, reading French passages, writing and translation assignments, and much more. In addition, it taught me the fundamentals of language and sentence construction.
I am very much grateful to Henry Harvin trainers, who taught me the language easily and quickly. After I learned the French language, it helped me provide my inputs to the projects. This enabled me to stand out in my team. Later, I was also promoted as a language specialist to work in my team.
This is my story of how I learned the French language. Interesting, isn't it?
But after learning any language, it is essential to keep practicing it. So, here I would like to share some tips which will help you to stay in touch with the language:
Watch films: After learning the language, watching films with subtitles helps you understand the language more.

Every day, you will discover idiomatic expressions, but you will also explore more vocabulary, understand the pronunciation, and improve accent.

Read: Prefer reading books, articles, newspapers, or short books in the language to learn new vocabulary. A mix of text and images facilitates the understanding of French learning.

Listen: Actively listen to people who speak the French language. How do they express themselves, how do they pronounce, how do they use certain expressions, and do not hesitate to ask for explanations? Passive listening can always help you progress.

Practice: Take advantage to repeat the words and expressions you have learned. Don't be scared to talk, which will help you improve your pronunciation.  
So, are you ready to learn how to speak French online?
Career Opportunities
Learning one's mother tongue is not enough in today's competitive world. The current world is highly diversified in all spheres of human endeavors. Therefore, you should always have the urge to learn something new. I would also like to focus your attention on why you should learn French.
Let's see why the French language course will help you explore your career opportunities.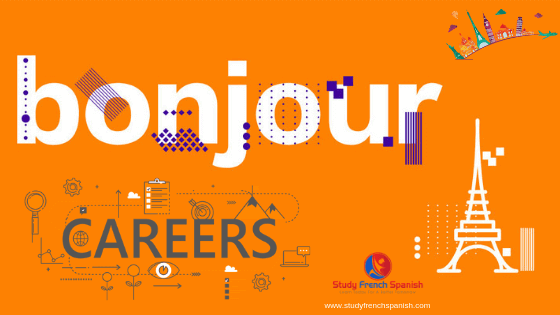 Learning French will open the door to multiple opportunities at some of the major companies around the globe. If we look back at history, French has been one of the major languages for a few moments, and it's still an essential language in the fields of law, business, and international relations.
Job opportunities at MNC, BPO, KPO, IT, and call centers – many French companies set up regional offices in India and other parts of the world. Several companies like Tech Mahindra, HCL, Wipro, Infosys send their employees offsite for projects

Job in Foreign Embassies – many embassies hire local staff like receptionists, dealing with passports, administrative positions, research analysts, etc.

Translator and Interpreter – you can work as a translator, proofreader, Interpreter, editor, content writer, etc.

Opportunities in the travel, tourism, and hospitality industry

Career opportunity as a teacher, lecturer, corporate trainer – nowadays, many schools has French as another language. You can work as a teacher in a school or take private classes once you acquire a degree after completing your French language course.

French specialists in import and export business run by various multinationals
Learning this language will help you learn a lot.
Even if you are a working professional with some corporate organizations, you get an opportunity to travel abroad. And if you are not a regular traveler, you will face a problem communicating locally in those countries.

If you are interested in diplomacy, knowing French will help you stand out in the crowd.

French language has a crucial contribution to international cuisine with foods such as "brie," "croquettes," or "entrée." Knowing French will help you to master the chefs during the training.
How did I learn the French language quickly and effectively?
Today, I will tell you about a few tips by which I learned the French language quickly and how taking up the French language course gave me pleasure in learning a new language:
Use audio files to study French

Adapt your learning style – be it writing, listening but learn things by heart

Self-study is important

When I learned the French language online, to make it better, I used written French exercises

I played games to strengthen my French language learning in a fun way

Keep an eye on free learning tools – not all are useful
I came across different words when learning French online, which I had never heard or read about. So, it is a prevalent tendency that we will go and use google translator. But I would request you to use translation tools to a minimum. When I learned the French language online as a beginner, I tried to avoid using them. I built confidence in myself by learning to adopt this behaviour when I was learning the French language online.
Images and Visual

situations should be linked to French and not to English words

Be careful while using words that are the same between two languages – they might create confusion

Put your thoughts on paper when you are writing – avoid writing in your head

Learn French in Sentences

Make learning more fun

Any language learned should be studied regularly and not all in one sitting

 
 Here are a few of my favourite language tips to speed up French learning. This helped me a lot when I was learning the French language online:
Spaced Repetition System (SRS) is a great method for memorizing phrases and vocabulary using flashcards.

Mnemonics – This is a very effective way to learn French words and remember them in your brain

Break up and learn technique – Nowadays, our patience levels have gone down and we can't sit and read for longer time. So, break up your session into 25 minutes chunks. In this way, you will focus on your learning and learn more in a shorter time.
Conclusion
There a quite a few options to learn the French language online successfully. In addition, multiple institutions provide both French language courses online and offline. But it depends upon your needs and requirements.
Becoming fluent in French will give you a sense of accomplishment. It's an additional skill that can be significant in your life. I have told you my story of how I learned the French language. There is a lot of gain from learning the language. The options and benefits it provides are unique and something to think about. It will open the doors to vast opportunities present in the world.
Recommended Reads:
FAQs
Q.1. Why should you learn the French language?
Ans. Learning the French language will help you add a feather to your cap by learning an additional language and exploring multiple opportunities for your career growth. 
Q.2. Is French easy to learn? 
Ans. The French language is Latin, so these two languages share some standard alphabets and vocabulary. 
Q.3. How can I learn the French language quickly? 
Ans. Various institutions are offering French language courses online as well as offline. You can search and decide which course you would like to opt for based on your convenience. 
Q.4. Does learning French has a good career opportunities?
Ans. Yes, of course, there are multiple job opportunities in India as well as abroad if you learn French language with proper institutes providing the French language courses and certification.